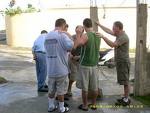 Jesus used this approach to healing as much as any other-the laying on of hands. The last chapter in the Book of Mark gives us the Great Commission, in Mark 16:
15 He said to them, "Go into all the world and preach the good news to all creation. 16 Whoever believes and is baptized will be saved, but whoever does not believe will be condemned. 17 And these signs will accompany those who believe: …they will place their hands on sick people, and they will get well."
How does the laying on of hands work? There are several ways to look at this. One is simply that it is a junction-point i.e.; that is, the 'when and the 'where' of the event at which faith springs into operation. Some call this the point of contact. As a minister, that's the place and time I believe God. As one being ministered to, that's the moment I know I begin to recover.
In the example of mass healing in Luke 4:40, we see Jesus laying His hands on everyone:
When the sun was setting, the people brought to Jesus all who had various kinds of sickness, and laying his hands on each one, he healed them.
This can be a very effective means of receiving healing. That is because there is a tangible experience as a 'signpost' or a physical marker. Signposts are useful, especially for the one receiving healing. The anointing with oil is also a physical marker to help the one receiving prayer.
In some instances, an anointing is released through touch. Often, it is not-it is purely faith in action, not 'manifested power'. This often confuses ministers. They are disappointed when there is no manifestation of power, but healing often comes without the spectacular. Divine healing is always miraculous, but not always spectacular.
Do you minister by the laying on of hands or have you received healing this way? If so, please share it and let us know.