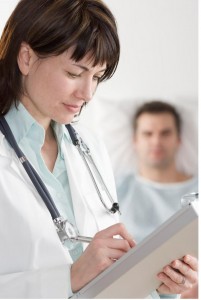 I feel like the last post left some thoughts unexpressed, so I will continue along those lines and try to tie up some loose ends. We know presumption is not faith, nor is faith the throwing away of medicines that regulate a condition. Actually, it is in insisting your doctor does another diagnostics test, even though you just did one a few weeks ago. In many cases, you do need testing and verification of your healing. Jesus called for verification sometimes, as in Luke 5,
12 While Jesus was in one of the towns, a man came along who was covered with leprosy. When he saw Jesus, he fell with his face to the ground and begged him, "Lord, if you are willing, you can make me clean." 13 Jesus reached out his hand and touched the man. "I am willing," he said. "Be clean!" And immediately the leprosy left him. 14 Then Jesus ordered him, "Don't tell anyone, but go, show yourself to the priest and offer the sacrifices that Moses commanded for your cleansing, as a testimony to them."
Jesus Himself asked the lepers to go to the priests to obtain confirmation that the leprosy was gone, so we know that medical verification is OK. In my own case, I know I've exasperated my doctor a couple of times by asking for a second MRI. I did as I was certain there was a positive change that I needed to verify. It is fine, in my book. It is also faith.
Years ago, I prayed for four diabetic, insulin-dependent men. They asked if they should stop injecting insulin. I told them not without their doctor's approval. Three weeks later, one sought me out and told me how he had been admitted to the hospital for another condition and they tested him routinely for diabetes. They returned for more blood a second time and then a third, before finally telling him to stop injecting insulin as he no longer had diabetes.
That was an exciting day! God is indeed good. I'd like to say the other three men were healed, but they were not, at least within that period. But I rejoice at the one healed and resolve to learn even more about healing. What are your thoughts?